Standard Bank complaints process

It is your right to have all feedback and grievances heard. Standard Bank is committed to dealing complaints through the correct complaints process

Step 1
You can raise a complaint at your nearest branch/suite with the Branch Manager, Relationship Manager, Area Manager or Provincial Head. You will get a reference number and an expected timeline to resolution
We will give you regular feedback until your complaint is resolved.


Step 2
If you're not satisfied with the outcome of the complaint, you can escalate your complaint to the Complaints Resolution Centre (the Centre):
a) Call them on 0860 101 101, or
b) Send an email to: [email protected]
c) Complete our complaints form

Please give the Centre the reference number you received and all relevant information about your complaint
The Centre will:
Acknowledge receipt of your complaint and give you a reference number within 24 hours after you've lodged the complaint
Allocate a case manager who will manage your complaint, and who will revert to you within 24 hours
The case manager will provide you with regular updates on the progress of your complaint
Your case manager will inform you if the Centre needs more time to investigate the matter.
Outcomes will be communicated to you in your preferred method of communication.
If you feel that your complaint has not been resolved to your satisfaction, please ask to speak to the Head of Complaints Management at Standard Bank
If you are still dissatisfied with the outcome of your complaint, you can approach an ombudsman (mentioned below). This service is free.
You can also refer your complaint to the relevant regulator.

Step 3
You need to lodge a formal complaint with the relevant ombudsman or regulator. The ombudsman and regulators usually require complaints to be lodged within four to six months after you've received an outcome from us. You must contact the relevant ombudsman or regulator as soon as possible to find out what their requirements and timeframes are to lodge your complaint.
For your convenience, the details of the ombudsmen and regulators are given below.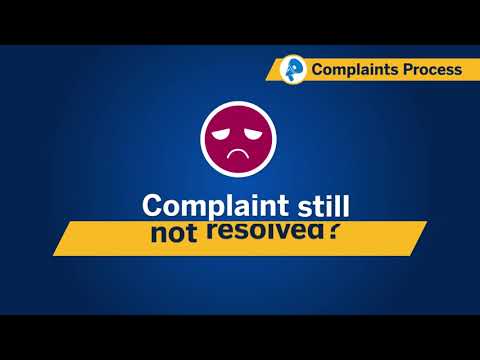 NEED TO KNOW MORE?
Watch the attach video on the complaints process
Information Regulator (personal information related complaints)
Should you feel that Standard Bank has not addressed your concern appropriately, please contact the Information Regulator.
JD House, 27 Stiemens Street
Braamfontein
Johannesburg
2001
P.O. Box 31533
Braamfontein
Johannesburg
2017

Tel: 010 023 5200
Email: [email protected]
Website: https://inforegulator.org.za/
POPIA:
Complaints regarding: Alleged interference with the protection of personal information.
Complete the prescribed POPIA complaint form and send it to [email protected]
PAIA:
Should your PAIA request be denied for an invalid reason or there is no response from Standard Bank for access to records, you may use and complete the prescribed PAIA Complaint form and send it to [email protected]
FAIS Ombud (advice/intermediary services or product related complaints):
Kasteel Park Office Park,
Orange Building, 2nd Floor,
c/o Nossob & Jochemus Street,
Erasmus Kloof,
Pretoria,
0048

P.O Box 74571
ynnwood Ridge
0040
Tel: +27 12 762 5000 /+27 12 470 9080
Fax: +27 86 764 1422 /+27 12 348 3447 /+27 12 470 9097
Email: [email protected]
Enquiries on status of complaints: ​[email protected]
Website: www.faisombud.co.za
Ombudsman for Short-Term Insurance (product related complaints):
1 Sturdee Avenue,
1st Floor, Block A,
Rosebank,
Johannesburg, 2196
PO Box 32334
Braamfontein
2017
Tel: +27 11 726-8900
Fax: +27 11 726-5501
Sharecall: 0860 726 890
Email:
[email protected]
Website:
https://www.osti.co.za/
Ombudsman for Long-Term Insurance (product related complaints):
3rd Floor, Sunclare Building
21 Dreyer Street
Claremont
Cape Town,7700

Private Bag X45
Claremont
Cape Town
7735

Tel: +27 21 657 5000/0860 103 236
Fax: +27 21 674 0951
Share call: 0860 103 236
Email: [email protected]
Website: https://www.ombud.co.za
Ombudsman for Banking Services (all banking and banking credit related complaints):
If you remain unhappy with the resolution of your matter, you are at liberty to lodge a complaint with the Ombudsman for Banking Services.

The Ombudsman for Banking is alternative dispute resolution body and its mandate / powers are outlined in its Terms of Reference which can be found on its website, https://www.obssa.co.za/. The Ombudsman is tasked with adjudicating matters between banks and banking customers in a fair, quick and impartial manner. The Ombudsman Office is an independent body from the banks and their services are free of charge.

110 Oxford Road
Rosebank

OBS Call Centre: 0860-800-900
WhatsApp number : +27 66 473 0157
Email: [email protected]
website: www.obssa.co.za/
The National Consumer Commission (body in place under the Consumer Protection Act for other consumer-type complaints):
The National Consumer Commission
Berkely Office Park
8 Bauhinia Road
Technopark
Centurion
Tel: +27 12 428 7000
Website:
www.thencc.gov.za
Financial Sector Conduct Authority (Regulator for financial services):
Riverwalk Office Park, Block B
41 Matroosberg Road
Corner Garsfontein and Matroosberg Road
Ashlea Gardens, Extension 6
Menlo Park
Pretoria
South Africa
0081
PO Box 35655
Menlo Park
0102
Contact centre: 0800 20 3722
Switchboard: +27 12 428 8000
Fax: +27 12 346 6941
Email: [email protected]
FSB Fraud and Ethics Hotline: 0800 20 3722
Email top offs: [email protected]
Website: www.fsca.co.za
The National Credit Regulator (Regulator for credit related matters):